THE PAIN INSIDE ME COMPEL ME TO REVEAL ALL THIS FACTS. WHEN I STARTED RESEARCHING 10 TO 12 YEARS AGO, WITH KAFIRS OF HINDUKUSH…THE WORD "SUBTGIN" TOUCHED MY SENSITIVITY. AT END OF RESEARCH I HAVE FOUND THAT LAV NANDAN WAS RIGHT IN ALL HIS ACTIONS. BUT WE COULD NOT….OR WE DONT WANT TO LOOK AT FACTS THAT SHIKHS ARE SHEIKHS.


WE NEVER LOOKED AT FACTS ABOUT WHAT HAPPEN TO QUTBUDDIN, TAGHLUK, GHORI, KHILAJIS AFTER ARIVAL OF MUGHALS. WE REMAINED BLIND TOWARDS FACTS. SECONDLY WE NEVER CHECKED HISTORY OF TURK SLAVES IN kHURASAN WHERE THEY ORIGINATED.TODAYS I HAVE FOUND THAT EACH SO CALLED FREEDOM FIGHTER WHO CLAIMED THAT…LAV NANDAN MADE THEM SLAVES…GULAM. IN FACT THEY THEMSELVES BELONG TO GULAM VANSHA..OR SLAVE TURKIC TRIBES.ALL WHERE WORKING FOR ABBASIDS….THEY NAMED PUNJAB..! TILL TODAY WE CAN READ BETWEEN THE LINES. BUT WHEN I HAVE FOUND THAT ALL THIS INVADRES OF TURKIC SLAVES (IN DISGUISE) AS WELL AS THEIR SAMANID BOSS TOLD QUIT INDIA TO LAV NANDAN..MY HEART BREACK…! MY SOUL IS CRUSHING.LET US BEGIN WITH HISTORY OF MAKING SLAVES (TURKIC) IN KHURASAN AND BUKHARA. TO UNDERSTAND PRESENT TWISTED HISTORY OF INDIA WE HAVE TO BEGIN WITH THAT.
_________________
HASMONEAN DYNASTY
TO UNDERSTAND MY HISTORICAL THEORY ONE HAS TO BEGIN WITH HASMONEAN DYNASTY.(140 B.C. TO 37 B.C.)
LINK TO HASMONEAN DYNASTY.READ CAREFULLY ABOVE MAP PICTURE. IT IS WRITTEN..MAMLEKHETH HASHMINIAN…..THIS VERY WORD MAMLEKHETH IS CLUE TO OUR HISTORY.
MAMULAUK ENTERED LAND OF LAV NANDAN AS GULAM (SLAVE) DYNASTY. QUTBUDDIN BELONGED TO THAT LINE.WITH THAT YOU CAN CONNECT MODU CHANYU…MAMULAK AND..MAMLEKHETH..
AS MUGHAL ENTRED THIS LAND BEHIND THEM TO CRUSH THEM…THEY CHANGED THIER COLOUR AS CHEMOLON.HOW ? THAT IS MATTER OF MYSTERY.
One has to go deeper into Ashkenazi , Shephardic and Mizrahi jews to understand gamut of history.
one has to dig deep into khazars (Hajar)…..khazars…form where game began.The term Uygur connects jews and Turk too. Uygur has heberw origin term.
The people who changed Oxen or Johiya river name to Amu Dariya belong to Ammon and Moabite kingdom.Sons of Lot and Palitith and Her sister. They rememebered Ado ( who turned to salt maunt at Dead Sea…..so they were "Addin"…..Qutbuddin….Muizziddin…and so on.
pashtun people have jew origin……….
And the term Ashkun has nothing to do with Ashkenaz….Son of Gomer. Emphtecally I want to mentions Ashkenazi jews has nothing to do with Ashkenaz…..son of Gomer.
other wise they might have not changed oxen ….johiya river to Amu dariya…..you doubt me ?
Invasion on land of Lav nandan began with Sabuktigin….He founded Gazanawid Dynasty. Nobody quetion history. Why a Turkic slave named Gaza ? why Gazanavid? Who was Sabuktigin ? Why he was working on advice of Abbasid Khalifas?
Link to Sabuktigin….Sabuktigin.
The answer lies here..in Sabbbotniks…..Subbotniks….who were believers of Sabaath…Why he was Sabuktigin…why he selected name Gaza for Gazanavid ?
"Sahib….Deg….teg…fatef"…..has origin here.Now a days we are taught that " Angrej" left behind the word 'Saheb"…..in fact Akal Takht , Ghurib navaz , Kabir panthi and Zionists (Jain) use the the word "Saheb" hounarably. This Saheb has root in sabbath.
Link to History of Gaza..where all Ghar…Ghzani….Gachchadhipati….Gadhada originated.
Link to Ashkelon.…history
The word Gurian do not remind you of Ghori….Who entered Land of Lav nandan on command of Abbasids and Samanids ?
_________________
BOOK LINK TO "In the Bazaar of Love: The Selected Poetry of Am?r Khusrau" By Am?r Khusraw Dihlav?, Paul Edward Losensky, Sunil Sharma (PAGE – XXII INTRODUCTION)…MENTIONED THAT TURKISH SPEAKING GAZANAVIDS WERE CULTURAL AND POLITICAL HEIRS OF EARLIER PERSIAN DYNASTY OF SAMANIDS IN BUKHARA.AS THE TURKS OF CENTRAL ASIA CONVERTED TO SLAVES AND SERVED AS SLAVES IN THE COURT AND ARMIES OF MUSLIM RULERS.
lINK TO SLAVE SULTANS OF HINDUSTAN SAYS THAT Alptigin was purchased by Ahmad bin Ismail, the Samanid king of Khurasan and Bukhara. MEANS SAMANIDS AND BUKHARA WAS CENTRE POINT OF THE HISTORY. SAMANIDS BECAME WEALTHY WITH TURKIC SLAVE SUPPLY TO ABBASIDS CALIPHA AND THEIR ALLY.
ABOVE LINK SYAS THAT THEY STARTED HOLY WAR AGAINST INDIA ON BEHALF OF ABBASID CALIPHA.
LINK ALSO MENTIONS THAT SULTAN MUIZZIDDIN HAD NO HEIR….BUT HE WAS DELIGHTED IN PURCHASING TURKISH SLAVES AND EDUCATING THEM.IT IS HIS POWERFUL QUOTE.
"Other monarchs may have one or two sons: I have so many thousand sons, namely, my Turkish slaves, who will be the heirs of my dominions, and who, after me, will take care to preserve my name in the Khutbah throughout those territories.And so it happened. With the help of his Turkish slaves Sultan Muizzuddin built up a large empire in India. He sent them there first as invaders and later as governors and viceroys in various parts for its governance."
HE WAS RIGHT IN HIS PRESUMPTION…..KHWAZA GHARIB NAVAZ REMEMEBRS HIM….GHURID TURN TO GHARIB ONLY.
QUTBUDDIN AIABAK ROSE TO FIRST SLAVE SULTAN OF HINDUSTAN.
QUTBUDDIN HAS ROOTS IN QABACHA TRIBE.
BOOK LINK TO "History of Islam" By Prof. M. Hasan ALSO MENTION SAMANIDS ,GHAZANVIDS AND GHURIDS IN SINGLE POCKET.
LINK TO SAMANIDS EMPIRE…READ AS MUCH AS ABOUT SAMAN kHUDA…ANCESTORE OF DYNASTY.THEY WERE IN SLAVE TRADE.ROOT OF SLAVE TRADE……( THEN READ ABOUT ABBASIDS THEIR BOSS. THEN READ ABOUT SWAMINARAYAN AND ABJI BAPA).
LINK MENTIONS THAT ZABULISTAN WAS SEIZED BY REBELLIOUS SAMANID GOVERNOR.IT WAS BEGINNING OF CONQURING LAND OF LAV NANDAN.
BOOK LINK TO "Dialogue & Daggers: Notion of Authority and Legitimacy in the Early Delhi" … By Ayan Shome (PAGE- 108) MENTIONS FOLLOWING FACTS.
– BUYIDS AND SAMANIDS MAINTAINED THAT ABBASIDS CALIPHS WERE THEIR OVERLORDS.ONE HAS TO CLARIFY THAT BUYIDS HAS ORIGIN IN MODU CHANYU. MUITZZIDDIN/ MOHHAMAD GHORI ALSO HAS ORIGIN IN BUYIDS….(MODU CHANYU)
————————-
SAMANIDS…ROOT OF EVSLAVEMENT
SO NOW WE KNOW THAT SAMANIDS WERE IN CENTRE OF TURKIC SLAVE TRADE.AS WE GO DEEPER AND DEEPER INTO SAMANIDS …HISTORY OF ENSLAVEMENT WILL OPEN.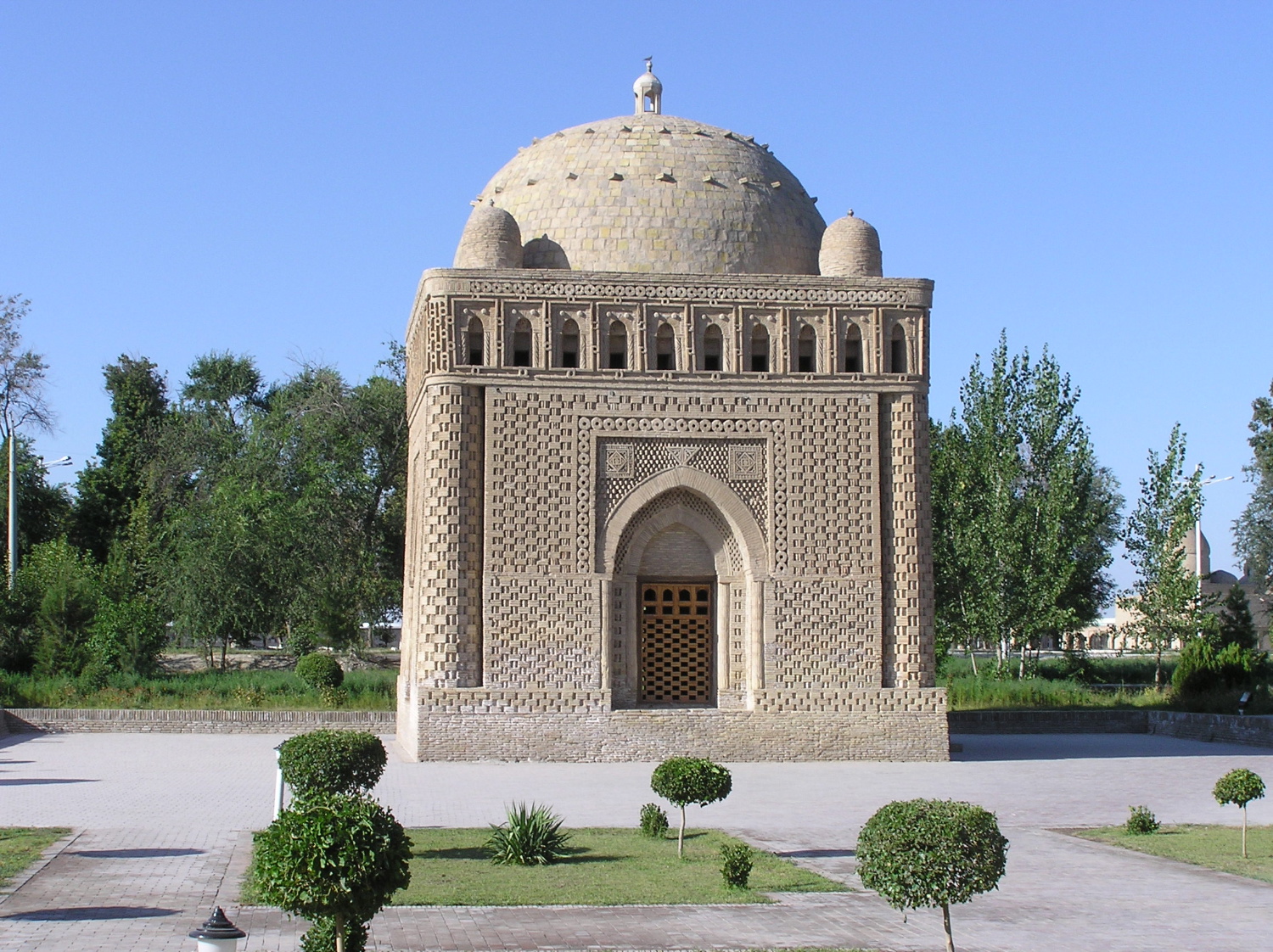 SAMAN KHUDA WAS GOVERNOR OF ABBASIDS IN NORTHERN PART OF AFGHANISTAN.HE FOUNDED SAMANID DYNASTY.SAMANID TOOK KHURASAN IN THEIR HAND IN 900.THEIR CAPITAL WAS BUKHARA.THEY WERE CONTROLING SAMARKAND , HERAT, NISHAPUR, BUKHARA.THEY WERE SELLING TURKISH SLAVES TO ISLAMIC ARMIES.
lOOK AT MAP OF SAMANID KINGDOM..MAP IS VERY IMPORTANT.LINK ALSO MENTIONS THTA SAMANIDS BELONGED TO BAHARAM CHOBIN.
LINK TO BAHRAM GUSHNASP...WHO OVERTHOWED SASSANIAN KING IN 590.
LINK TO BAHARAM CHOBIN…BAHARAM CHOBIN……BAHARAM CHOBIN WAS SON OF BAHARAM GUSHNASP
THEY HAVE ROOTS IN SAHARDARAN ( HOUSE OF MIHRAN)….THEIR SON SAMAN KHUDA SHOOK HAND WITH ABBAS AND CONVERTED IRAN AND AFGHANISTAN…..PROVIDED ABBASIDS WITH TURKIC SLAVES.HE IS KILLER OF PERSIAN ANCIENT HISTORY.
Book link to "Organized Crime and Its Containment: A Transatlantic Initiative" edited by C. J. C. F. Fijnaut, James Barrett Jacobs..Page – (57) tells history of conversion of Samanids and Kotak
Book link to "History of civilization of Central Asia" wll tell more facts.
Look at Percian Dress as well as Head dress……It will remind you something.
Ya history of enslavement began with smanids in Afghanistan.
Book link to "A Concise History of Afghanistan in 25 Volumes, Volume 14".. By Hamid Wahed Alikuzai..mentions page – 120..that samanids enslaved Turk tribes man in his territorry,and if he turn to islam giving them little freedom.
Book link to "A Brief History of Afghanistan".. By Shaista Wahab, Barry Youngerman..mentions (page – 55) that samanids unified Afghanistan.samanids are known for muslim orthodox piety while Ghaznavids were known for fierce promotion of Islam.
Book link to "The Silk Road – Central Asia, Afghanistan and Iran: A Travel Companion" By Jonathan Tucker….mentions (Page – 41 )that despite their persian ancestry…samanids were ardent sunni muslim.their turkish slaves ebraced Islam but kept their traditions.Their ex -slave founded Ghazanavi dynasty.
Book link to "The Spread of Islam Throughout the World"…. edited by Idris El Hareir, Ravane Mbaye..mentions(page – 585 ) that samanids encouraged Islam in desire to buttress their political position in Islamic world and particaulaly they remained attached towards Abbasid dynasty.They were descended of Baharam Gur.During samanid rule Afghanistan assumed an Islamic character.
In Dari Language samanides were called "Saman – I- han"..They belong to Samandizia tribe.
Link mentions Ismail – 1..(892 – 907)..who conqured Kabul and drove out Hindu shahi (900 )…pl. read last line of the link.
Link mentions that Samanids recognised Sebuktigin as Governor of Gazana.Sebuktigin expaned his kingdom towards easteren border of India. He defeated Jayapala.
Ya , Lav nandan did not made them slaves but they shouted against him and blamed him for their slavery….!
Link clarifies history of Slavery …!
Samanids were in centre of the Abbasid movements…….So even today know Guangzhou connection.
Read the link and find out Guangzhou connection.
Link to my previous article…….Means today Samanides becomes Raj dharam of Gujarat?
you read about Turkic people. One of the tribe is Chuban….now you know that Saman Khuda was Chuban.
Link to Chuban tribe.
Link to Zhetysu.….Zhetysu.
link to Zaria in Nigeria and
Link to Jharia in jharkhand…..
It provide us proof that when Chngez deaffited Abbasids….Abbasids along with Samanids, Mamluks ,Suris and other Turkic slave soldiers Army…..Setteled in Punjab and Misra..Nigeria
So today we find Das in nigeria as well as in jharkhand both…….
Ya Abbasids reached Nigeria……Hermandir sahib took form of Hausa people….same tradition…..Now understand ? why Guru Gobindsingh came Bihar ?..so Beishakhi we listen in Nigeria.
Link to Hausa people….
Link to Bayajidda….will explain you evrything…..
You doubt me ? That there is Gaya too in Nigeria.
Kunchi too in Nigeria
Link to Kunchi.…Kunchi.
Now you understand…..who betrayed Lav nandan ? Ya I am right…..Pasha turned to Prasad here.
Pashas were Mamluk….Prasads are also Mamluk….who were enslaved by Samanids in Bukhara only.
Mamluks are clue between Boko Haram…..Bokaro ..and Bochasan.
——————————-
DIFFERENT SHED OF HISTORY (OTHER THEN TURKIC SLAVES WHO INVADED LAND OF LAV NANDAN)
BUYIDS /BOWAYHIDS DYNASTY
SAMANID HISTORY ALSO HAS CONNECTION WITH BUYIDS….BOWAYHIDS…..DYNASTY…..THE DYNASTY ALSO CARRY INTERESTING HISTORY.
LINK MENTIONS THAT BUYID BROTHERS FIRST ENTERED IN TO SERVICE OF SAMANIDS.
THIS LINK MENTIONS THAT DURING 10 TH AND 11TH CENTURY IT WAS POWERFUL DYNASTY PRIOR TO INVASION OF SELJUG TURKS. BUYIDS ALSO RECRUITED TURKS AS WELL AS DEYLEMITES IN THIER ARMY . DEILEMITES AND TURK SOMETIME QURREL FOR DOMINANT FORCE INTO THE BUYID ARMY.ONCE THEY WERE CALLED TWELLVER SHIA…SOMETIME BECAME ZAYDI SHIA.
THE FACTS ALSO CONNECT THEIR HISTORY WITH DAILAMITES. DAILAMITES AND BUYIDS HAS MIX HISTORY IN PERSIA. THEY FAUGHT AGAINST ABBAISDS AND DIFFFENDED PERSIA.BUYID WAS IN FACT DAILAMITES ORIGIN. THEY REMAINED FAITHFUL TO BUYIDS AS WELL AS ZIYARID DYNASTY.
LINK TO DAILAMITES….DAILAMITES.
lINK TO ZIYARID DYNASTY. IT BELONG TO ARGHICH TRIBE.RULER OF GILAN ARGHUSH FARHADAN WAS THEIR LEGENDRY KING.MARDAVIJ WAS THEIR KING.ONCE THEY DEFEATED SMANIDES TOO.
lINK TO MARDAVIJ..MARDAVIJ.
THEIR HISTORY ROOT IS HERE IN GILAN PROVINCE.
YOU WILL BE SURPRISED TO KNOW THAT BUYIDS AS WELL AS SAMANIDES BOTH REMEMEBRES LAXMI NARAYAN HERE ON LAND OF LAV NANDAN.
CAN'T YOU GET THE CLUES?
LIKE SAMAIDS I WILL PROVIDE BUYIDS , DALAMITES AS WELL AS MARDAVIJ CLUES TOO.
THIS FAMILY HAS ROOTS IN BUYID DYNASTY.
THIS IS CLUE TO DAILAMITES WHO FAUGHT AGAINST ABBASIDS.
THIS IS CLUE TO MARDAVIJ….MARDAVIJ.….DEAR BIRALA , BIYANI, BAJAJ ALL BELONG TO THIS GROUP.
SORRY SOME FAUGHT AGAINST ABBASIDES BUT COULD NOT RECOGNISE LAV NANDAN WHO CAME FORM LONDON ALONGWITH HIS ANGADSENA (ANGREJSENA).
THIS DIFFERENT SHADE AND DIFFERENT PEOPLE…DIFFERENT HISTORY. THEY TRIDE THEIR LEVEL BEST TO SAVE LAND OF LAV NANDAN IN PERSIA TOO….MY SALUTE TO ALL OF THEM.
BUT SO SORRY FORM HERE THEY SHOCK HANDS WITH GAZANAVIDS. HE STAYED FOR EIGHT YEARS IN GAZANI.EVEN MARRIED TO GAZANAVID SULTAN MUHAMMAD.WHO LATTER BORE HIM GILAN SHAH.( GILAN WAS PROVINCE OF DAIMALITES,ARGHICH CLAN).
link to Ziyarid Dynasty..….Ziyarid
LINK TO AGARWAL CLAN.
Now we know about Ziyarids, about Keikavus. Know know further history.
Link to Anushirvan Sharaf al – Maali of Ziyarid dynasty.
Here we come to know that Royan is there in Persia.
Link to Rayon.…Rayon.
Now I surprised to know that this man helped to tell quit India to Lav nandan.
PL. CALL BACK LAV NANDAN FORM LONDON……I REQUEST OLD FIGHTER CLAN OF LAND OF LAVNANDN.
I have checked history of fall of persia. I have faund that Seljuk empire also defended parisa against all for long but at last they loose against muhhamad Gazani.
———————-
PRESENT LINK WILL TELL YOU COMPLETE HISTORY OF SLAVERY THAT EMERGED IN PERSIA..…AND PEOPLE SHOUTED ABOUT THAT SLAVERY ON LAND OF LAV NANDAN AND TOLD QUIT INDIA TO LAV NANDAN.
link to my previous article will say you further historical facts
LINK TO MY PREVIOUS AFTICLE WILL SAY YOU FUTHER HISTORY OF THESE SLAVES…..WHO ENTERTED INDIA IN FORM OF MAMULUK SLAVES……AS MUGHAL CAME TO INDIA THEY TOOK DIFFERENT FORMS IN DISGUISE AND TODAY PLAY GAME OF DEMOCRACY IN DISGUISE..TOTAL DISGUISE. IN FACT THESE PEOPLE TOLD QUIT INDIA TO LAV NANDAN
YA , GAZANAVI…GAZI…KHILAJI…ALL HAVE ORIGIN IN GHIMAN…GULAM..HOW GHIL CAN DENY THAT THEY WERE NOT MADE SLAVES IN KHURASAN BY SAMANIDS ?
LINK TO GHILMAN.…GHILMAN
lINK TO THE ARTICLE THAT SAYS THAT LAV NANDAN….SON OF "TRILOKPATI RAM" IS THERE IN LONODN.
————————–
REAL TURNING POINT OF SANATAN HISTORY
NOW WE KNOW THAT AS MUGHALS OR DESCENDENT OF CHANGEZ FINISHED ABBASID CALIPHATE IN BAGDAD. ABBASIDS TOOK SHELTERS AT TWO CORNERS, WHERE MAMULUKS WERE RULING (1) EGYPT (2) PUNJAB. AT BOTH PLACE MAMULUKS WERE RULING.
BUT WHAT IS ABOUT SAMANIDS ? WHERE THEY MOVED ALONGWITH THEIR TURK SLAVES IN EGYPT TOO ? YES….THEY MOVED TO EGYPT TOO ALONGWITH THEIR BOSS ABBASIDS AND GULAMS TURKIC SLAVES. TO SEARCH THAT FACT WE HAVE TO GO DEEPER IN HISTORY OF EGYPT…ONCE IT WAS CALLED ARABIC MISR…MASR…! ETYMOLOGICAL CHANGE OF NAME WILL LEAD YOU TOWARDS REAL FACTS.
LINK TO EGYPT....EGYPT
LINK TO AL- MUQAWQIS WILL SAY YOU FURTHER HISTORY.
DO YOU WANT TO FIND SAMAN KHUDA THERE ?
AGAIN I LEAD YOU TOWRDAS TRIBE OF MIHRANIDS.
BOOK LINK TO " The Cambridge History of Egypt, Volume 2″ By Martin W.. Daly, Carl F. Petry (PAGE – 82) MENTIONS CONQUEST OF EGYPT BY ABD ALLAH. HE HAD ARAB AS WELL AS IRANIAN AS WELL AS TURK SOLDIERS (FROM FAR EAST) IN HIS ARMY.NON WAS EGYPTIANS .ALEXANDRIA WAS RULED BY ILYAS IBN ASAD IBN SAMAN KHUDA…….!
MEANS TO UNDERSTAND PRESENT HISTORY OF INDIA…..WE HAVE TO CHECK HISTORY OF ABBASIDS ( AFTER FALL OF BAGHDAD).SAMANIDS AND HIS TURKIC SLAVES WERE CARRYING ABBASID HISTORY AT TWO POINT…..BUT ONLY MUGHALS DISTURBED THEM. THEY HIDE THEMSELVES TO BE SAVED FORM SWORDS OF MUGHALS…..WHO ENTERED PERSIA ,BAGDAD AND INDIA TO PUNISH THEM ONLY.
Surprisingly we find name like Bayelsa, Choba in Nigeria too.
Link to Bayelsa state.
link to Choba coomunity
—————————-
NOW IT IS HIGH TIME TO LOOK AT..MYSTERIOUS HISTORY
SHER SHAH..AND..SURI
FIRST WE KNOW THE REAL HISTORY OF SHERSHAH SURI IN DETAIL.
lINK TO SHER SHAH SURI. WHO REMAINED SUCCSSESSFUL TO BETRAY MUGHALS. HE BELONGED TO SUR PASHTUN TRIBE. NOW IT IS CLEAR THAT SOME PASHTUN TRIBES
HAVE JEWISH ORIGIN.HE WAS ONE OF THE EIGHT SONS OF MIAN HASSAN KHAN SURI,A PROMINENT FIGURE IN BAHLUL KHAN LODI (HIS LODI CONNECTION. HE ALSO BETRAYED MALDEO RATHORE.
….SUR EMPIRE.…
lINK TO SUR EMPIRE.…..SUR EMPIRE. SHER SHAH SURI DEFEATED HUMAYUN…! SUR BELONG TO SUB GROUP OF GILZHAIS.AND YOU NOW YOU KNOW GILZAIS BETTER.
IN FACT SURI DYNASTY ALSO BELONG TO GHURID DYNASTY. THEY WERE PAGAN PREVIOUSLY BUT THIS GHURID DYNASTY WAS FIRST TO CONVERT TO ISLAM.
GHURID KING AMIR SURI'S RULE WAS LEGITAMISED BY HARUN AL RASHID.
STILL YOU DONT BELIEVE THAT THEY REMEMEBERS MAHADI – SON OF HARUN AL RASHID IN MAHUDI…!
Link to Mahudi.….Mahudi.
In form of Ghantakarna they remembers Ghurghakhti…/a>..Ghurghagti
And here is Manibhadra vir…That Al- Mahadi ....Muhmmad ibn abdallah
THEY BELONG TO BETTANI TRIBAL CONFEDERATION
IT WAS BEGINNING OF CONVERSATION OF GHURID DYNASTY.
Ya there is connection between Gaza patti / Gazani / Ghori / Gerizim and Gachchadhipati.
NOW LET US GO STRAIGHT TO SUR PASHTUN TRIBE. THEY ARE KNOWN AS SURI ,ZUR OR ZURI. THEY DESCEND TO GORIDS. THEY BELONG TO LODI BETTANI CONFEDERATION. NOW UNDERSTAND WHY SHER SHAH SURI BETRAEYD MUGHALS ? THEIR ANCESTER AMIR BANAJI BAHARAN RULE WAS LEGITIMISED BY ABBASID CALIPH HARUN – AL RUSHID. MAHMUD GAZZANI ATTACKED PAGAN SUR.READ ABOUT MAHUY SURI WHO ASSASSINATED PERSIAN PRINCE. MAHUY APPOINTED KING OF kHURASAN….BY ABBASIDS.MUHHAMMAD SURI WAS GREAT GRAND FATHER OF SULTAN GHYASUDDIN AND MUMMAD GHORI.
—-MAHUY SURI…..MAHOE SURI.….
that connects Mahavir and Mahudi.
MAHOE SURI WAS AN IRANIAN ARISTOCRATE. HE BELONGED TO HOUSE OF SUREN..ONE OF PARTHIAN CLAN. (HE BETRAYED PERSIA ?). HE ASSASINATED PERSIAN PRINCE YAZDEGRADE III.
CONTINUOS HISTORY OF BETEREYAL. THEY SUR TRIBE BETRAYED MUGHLAS BECAUSE BABUR DEFEATED IBRAHIM LODI OF THEIR CONFEDERATION.
ONCE THEY WERE PAGAN BUT THEN TURNED TO ISLAM……BETRAYED PERSIA, AFGHANISTAN AND LAND OF LAV NANDAN. NOW CAN YOU UNDERSTAND MAHAVIR AND MAHUDI ?
TO GET MORE CLUES WE HAVE TO GO DEEPER HISTRY OF SHER SHAH SURI.
LINK TO ISLAM SHAH SURI....SECOND SON OF SHER SHAH SURI.
LINK TO MUHHAMMAD ADIL SHAH.….HE APPOINETD HEMU AS HIS WAZIR.
AFTER 15 YEARS AKBAR CAME BACK WITH ARMY.AND HISTORICAL MYSTERY BEGAN WITH HERE. THE HINDU FACE IMGERGAED DURING THIS TIME TACTICALLY.
NOW READ ABOUT HEMU…WHO BECAME DEFACTO KING. HE FAUGHT WAR AGAINST MUGHALS.TOOK TITLE OF VIKRAMADITYA….! HEMU LOST SECOND BATTLE OF PANIPAT AGAINST MUGHALS(HEMUS COMMUNITY WAS MASSACRED).
MEANS IN THEIR PAGAN FORM THEY WERE LIKE THIS…..!
you doubt me ? History says that now a days jewish tribes are there in Hindukush.
The back history of invaders on land of Lav nandan proves thsi fact.
In fact Shefardic jews rememebrs Mahuy Suri in form of Mahavir. They manipulated history according to their own historical needs.
Now we know that Sher Shah Suri has origin in House of Suren in Persia.
Link to House of Suren...House of Suren.
Know about Surena….Surena.….They betrayed last persian king…..Then Hymayun and Akbar…! Now they are making people of Land of Lav nandan smoothly.
Link to Suri in Bhirbhum.…Birbhum.
Link to Suri in Kerman..Kerman.
Now you know sher shah suri.
They rememebr their forefather here but lav nandan can not come to this land.
Now we know that Sher shah suri betrayed Mughals. But Mughal came back with double force.
sher shah suri switched over to differenet game. History of betrayal began here with.
with Hemu….Hemu (son of Ham).He was chief of Army of Suri dynasty.Mughal historian did not write false history. But with Hemu sons of Ham turned to Hindu.And their elder brother turned to Shikh……to fight against mughals in disguise.
Link to Ham..Ham…..Cush was son of Ham.…Hindu kush is named behind that Kush.
Hemu was their hero….and they continued this history with this new disguise name of Ham.
Shah / Shnah / San
Link to Sephardic Jews.….Shas.
Link to Geonim…..other term of Zionisam.…Who dont believe in God…..Ishwar.Read the link carefully……They belong to Talmudic academies recognised by Abbasids.
Link to Talmud….itself been refered as Shas. Structure of Talmud folloow Misnah
Link to origin of Mehsana….Mehsana.……Ya,Misnah has origin in root word " Shanah".It is known as Oral Torah.
They named every village name with suffuix " Shanah " (Taliban remembers that Talmud and Shnah).Even Mehsana only remembers that Shanah.
Means Al -queda ….Al – kheda…Al – Khadia…….as well as " Shnah " Taliban in disguise form told quit India to Lav nandan.
And we sanatani people dont know anything about.
———————————–
They entered land of Lav nandan in form of Mamluks,Timurids , khilaji and Ghori. As mughal entered this land to chase them…..they changed their form. this confderation said quit India to Lav nandan in disguise. In fact they were slaves of Samanids and Abbasids before they entered land of lav nandan.
Link to Turkic people…..real invader of land of lav nandan.
———————————-
Khilaji / Ghilaji
"Mongols from central Asia tried to invade Delhi during the reign of Alauddin many times. Some of these Mongol people also settled near Delhi and accepted Islam. They were called "New Muslims". However, their financial condition was not good. Ala ud-din Khilji suspected them of being involved in a conspiracy against him and of being a threat to his power. He ordered to kill them all in a single day. In 1298, between 15,000 to 30,000 people near Delhi, who had recently converted to Islam, were slaughtered in a single day, due to fears of an uprising. Their women and children were made slaves."
Link to Khilaji dynasty.……link says that Mughals were not muslim…when they enetered India.link also mentions that they had roots in fort of Ghilaji
Link to Ghilaji.…Ghilaji.
Now you doubt thier origin in Golan hieghts of Israel..Ghilaji and Gilani have same origin. Now you doubt thier origin in kingdom of Juda?
———————–
In fact shefardic ,Mizrahi and Ashkenazi jews told quit india to Lav nandan. And They have roots in Al – queda and Taliban.
To understand everything one has to understand turkic tribe confederation…..Samanids..Saman khuda was their Godfather.
Link to one more proof.
You are in search of Samanid roots ? Are you in search of Ashkenazi roots ?
Then read about Samaritans……Samaritans..…In hebrew they are told Samerim….in jewish hebrew..Shomronim…while in Arabic….Sameriyyun.
All Gazani…..Ghilaji…Gaza..Ghar …Gachhadhipati have origin in mount Gerizim….Gerizim....Samaritans believe this mount sacred then Jerushalem…Temple Mount..!..Zionist are believers of Temple Mount.
According to Hebrew Bible…..Simeon was second son of Jacob and Leah. One of The lost tribes of Israel. We have found Simeon lost tribes in form of Swaminarayan……Samanides……! The tribe was deported to kingdom of Aksum…..So Simeons remembers Ashkenazi. They reached Khazars…..!
(lINK TO) SAMARITANS WAS THEIR ANCIENT RELIGION…….
THEY BELONGED TO MOUNT OF GERIZIM..GERIZIM.….GHAR… GAZA…GAZANI…..GHOR..ALL BELONG TO THIS MOUNTAIN…….IT IS GARDEN OF EDAN ( ADDIN….SONS OF ADO)
lINK TO The Samaritans and Early Judaism: A Literary Analysis By Ingrid Hjelm (PAGE – 135).
Gerizin and Gaza history again meeets. So again Gazi ? in form of Gadhada? ya it is. people of land of Lav nandan are surrounded by Gazi and gazani in different forms of Gharib navaz , Gadha and Dhai Ghar.
book link to "The Samaritan Mission in Acts" By V. J. Samkutty..page 91 onwards
———————-
To understand above facts…..we have to begin with Yakub and his sons as well as their captivity in Babylon ( todays Iraq and Iran). The foollowing link will tell you history of Mountain of Ghor. Afghan locals were calling people who were living onmountain… Benie Israel..Benie Afghan. The link also says that they were worshiper of god Ilohim. link also mentions "Jew" chinise term that is "Xiyu". Link also mentions Gausa province and "Mizvot"- commandments.link also mentions that original name of Samarkand was Jianshi.
Link to above facts…!
Link to Taizong's campaign against "Xiyu states" (jew states)
Link to Gansu ughyar...will explain history of" Uyghur "
Link to the term Mitzvot....that letter on turned to Muizziddin…Mahmmad Ghori
lINK TO "A History of Pakistan and Its Origins " edited by Christophe Jaffrelot.
Who named Hindukush ? dear Cushite jew tribes named Hindu kush…..It has nothing to do with kush….Son of Ram.
Link to Pashtun tribes.
Link to Qais….Qais…legendry founding father of pashtun nation
——————
AT THE TIME OF REAL CRISIS THEY SUPPORTED kHILAFAT AND BLACK MAILED LAV NANDAN.
NOW WE HAVE TO LOOK AT THE FACTS….WHO AND WHY SUPPORTED KHILAFAT MOVEMENT?